The Risen Dread: Ouça os singles de "White Night", "Silent Disease" e "Sound Of The Unknown"
Postado em 18 de dezembro de 2021 @ 02:30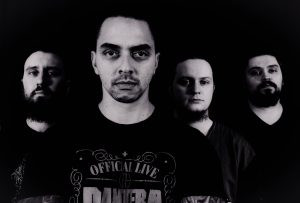 A banda The Risen Dread disponibilizou os três singles que antecedem o álbum de estreia, "Night Hag", que será lançado no dia 28 de janeiro de 2022. Radicado em Dublin, na Irlanda, o The Risen Dread foi fundado pelos músicos, Colum, Marco, Mat e Will, em outubro de 2018. O nome da banda faz referência ao sentimento de pavor existencial que às vezes surge nas pessoas sem saber como ou por quê. Em setembro de 2019 eles lançaram o EP "Delusions", material que chamou a atenção da crítica especializada europeia.
Desde a sua formação em 2018, eles foram convidados a ser a banda de abertura para o Malevolent Creation, e depois embarcaram em sua própria turnê pelo velho continente. Durante a pandemia a banda deslocou um tempo para terminar seu álbum de estreia "Night Hag", que como já foi dito, será lançado no fim de janeiro de 2022 – em breve mais detalhes serão divulgados.
Produzido pela banda, gravado por Josh Robinson no JSR Studio em Belfast em junho de 2021, e mixado e masterizado por Kai Stahlenberg no Kohlekeller Studio na Alemanha em agosto de 2021, "Night Hag" é um álbum conceitual, com as doenças mentais como ponto central para os temas, com todas as faixas enfocando uma doença particular ou uma figura histórica que teve múltiplos transtornos.
O primeiro single da banda, "White Night", contou com a participação do guitarrista do Sepultura Andreas Kisser e estreou na Kerrang! Radio and Midlands Metalheads. O segundo single "Silent Disease" teve uma estreia exclusiva na Primordial Radio do Reino Unido e um vídeo na Metal Injection.
Ouça os singles:
"White Night" Feat. Andreas Kisser:"
https://www.youtube.com/watch?v=UQxa0PjTPAc
"Silent Disease":
https://www.youtube.com/watch?v=GdNuNjuDuhU
"Sound Of The Unknown"
https://www.youtube.com/watch?v=Azx9CfVVnEs
A formação do The Risen Dread taz Marco Feltrin (vocais), William Ribeiro (guitarra), Matt Maher (baixo) e Colum Cleary (bateria).
Siga o The Risen Dread em seus canais oficiais:
https://www.facebook.com/TheRisenDread
https://www.instagram.com/therisendreadband/
https://www.youtube.com/channel/UC-uZQeu9GygE2kNp9DAlg1A
https://open.spotify.com/artist/7yXRTjZOwuCY1BXlnba4sr?si=n2ychwzVRsuvmgv0-qf49Q
Notícias