Final Disaster: Assista videoclipe de "Creatures From The Underground"
Postado em 20 de abril de 2021 @ 11:44 | 104 views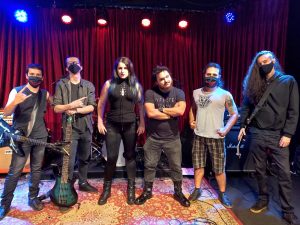 O Final Disaster lançou na semana passada o vídeo de "Creatures From The Underground", que conta com a participação de Wall Almeida da banda Aneurose. No vídeo também estão fãs e amigos da banda.
Assista:
https://www.youtube.com/watch?v=Uux_CUlAECo
"Creatures From The Underground" também está em todas as plataformas digitais desde o dia 09 de abril. Ela fará parte do primeiro full lenght da banda, "Halls Of Despair", que contará a história do Serial Killer, Mr.Joe, e sua trilha de sangue e destruição deixada por onde passa.
Além desse single, já foram lançados cinco outros desse álbum; "Another Victim", "Turn it Off", "Dark Delight", "Quiet Now"e "Blood Red Creation
Recentemente o Final Disaster criou uma campanha de financiamento coletivo no Apoia-se.
Assista o vídeo explicativo da banda para esta campanha:
https://www.youtube.com/watch?v=uV6mVabLeWs&feature=emb_logo
Para colaborar com a banda e saber sobre as recompensas, acesse:
https://apoia.se/finaldisaster
A formação do Final Disaster traz Kito Vallim (vocal), Deborah Moraes (vocal), Rodrigo Alves (guitarra), Lucas Meow (guitarra), Felipe KBÇA (baixo) e Bruno Garcia (bateria).
Acompanhe o Final Disaster em seus canais oficiais:
www.facebook.com/FinalDisaster
www.instagram.com/finaldisasterofficial
https://www.youtube.com/watch?v=5Q42ReYKt2I
Notícias
---
Deixe seu comentário / Leave your comment
---