Into The Strange: Assista vídeo teaser de "Greetings (To The Deads)"
Postado em 12 de janeiro de 2022 @ 19:50 | 21 views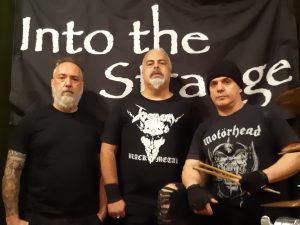 A banda Into The Strange acaba de lançar um teaser do videoclipe de "Greetings (To The Deads)", que será lançado no dia 28 de janeiro, às 19h, no canal do YouTube da Goblin TV (Goblin TV – YouTube)
Para assistir o teaser, acesse:
https://www.youtube.com/watch?v=-SdATj_W8aE
O Into The Strange foi formado em 2021, baseado no segundo álbum da banda mineira Mutilator, "Into The Strange", que foi lançado em 1988. Da formação do clássico disco estão CM Scarpelini (guitarra e vocal, ex-Mutilator, MX, Cova) e Armando Sampaio (bateria, ex-Mutilator, Sarcófago, Holocausto). O Into The Strange é completo por Mauricio Atalla (ex-Kalabouço, Crucifx). Em breve será anunciado o segundo guitarrista fará parte da banda.
A regravação da música "Greetings (To the Deads)" é um tributo ao saudoso amigo Alexander "Magoo", guitarrista e vocalista que fazia parte do Mutilator e faleceu em 1997.
Acompanhe o Into The Strange em seus canais oficiais:
https://www.facebook.com/IntoTheStrange
https://www.instagram.com/intothestrangeband/
https://www.youtube.com/channel/UCIL3wQ-GDm5cF21Nsz6TjXQ
Notícias
---
Deixe seu comentário / Leave your comment
---